Our Mindful Moments was started to celebrate life's moments. A lot of the time we are rushing from one place to another or one moment to another without stopping and appreciating life. This phrase describes the page's mission:
Life is never perfect and nor should it be.   We invite you love all of life's moments not just the good and to take time to appreciate what is happening around us.
We hope that the quotes and articles that we share give people an opportunity to stop, reflect and be mindful.
Meet the Team
Stephen Downey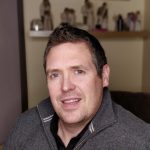 Stephen has been practicing Mindfulness since completing a MBSR course in 2013. Following a personal tragedy in 2014, Stephen gained an appreciation of just how short life can be.   What started as a way of sharing mindful quotes and articles that inspired himself, grew into the Our Mindful Moments Facebook page that exists today.   It is his belief that gratitude for the little moments in life as well as a realisation of how short life is, is what helps Stephen "Ride the waves of grief" as he puts it.
This appreciation and a passion for everyday moments has grown over the years and led Stephen to explore public speaking as a way of sharing his message and hopefully encouraging other people to #LoveEveryMoment.    His talks have been describes as Powerful and Inspiring.   He hopes that anyone who listens to his talks will be inspired to also #LoveEveryMoment and enjoy the Journey of life.
Please contact Stephen for Speaking Engagements engagements in Ireland or the UK.